Outdoor Adventure Program
Experiential Education at TrekNorth
The mission of TrekNorth's Experiential Education Program is to provide opportunities for students to develop leadership, confidence, compassion, and perseverance. Through service and wilderness oriented experiences, students will progress through increasingly challenging programming in order to move from a novice to an expert in their chosen interests and will enrich the community of TrekNorth through reflection and presentation. Through TrekNorth's Experiential Education Program, students will develop lifelong values for community, diversity, challenge, wilderness, and social issues.


The OAP Experience at TrekNorth
All students will progress through a serious of outdoor trips throughout their TrekNorth experience as part of the required curriculum. In grades 6th, 7th, and 8th grade, students will be introduced to the four outdoor disciplines of canoeing, backpacking, rock climbing, and cross-country skiing. Students will also be involved with an overnight adventure to focus on team building and other OAP values. Once in high school, students will experience dramatically longer and more technical trips under a minimum of one of the four outdoor disciplines. At the end of the OAP tier requirement, students will have the opportunity to act as a Jr. Trip Leader where they can earn elective credit, assist with trip planning, and participate in a leadership role for the younger trip participants.
OAP Values
The Outdoor Adventure Program values education, wilderness, leadership, community, expedition behavior, risk management, and leave no trace principles.
Education
TrekNorth believes education is grounded in experience, and that experiences which provide challenge, excitement, critical-thinking, and the demand for communication are the best teachers. The challenges we create for our students will teach them the skills they need for responsible wilderness navigation and the ability to ethically navigate through the realms of their family, peer groups, school, daily decision-making, and career path
Wilderness
TrekNorth defines wilderness as any natural setting with real challenges and consequences, and as a place free from the distractions and technological conveniences of modern life. Navigating through wilderness demands self-sufficiency, determination, technical skills, respect for the environment and our partners, and delicate decision-making that balances risk and benefit.
Leadership
TrekNorth believes leadership is a developed rather than inherent trait. Leadership evolves after experience, and TrekNorth values a leadership style amongst staff and students that incorporates personal accountability, awareness of consequences, awareness of group needs, awareness of environment, and humility in the midst of wilderness.Community
TrekNorth is foremost a community; a community dedicated to young people who are striving to become positive contributors to their local and global communities. By experiencing worlds outside of the classroom, students at TrekNorth learn more about their place in the greater world and how to work together as citizen peers to achieve our goal of making a positive difference within our local and global communities.
Expedition Behavior
TrekNorth has adapted the National Outdoor Leadership School phrase, "expedition behavior." Expedition behavior is a simple term with broad meaning and is defined by the following: serve the mission and goals of the group, be as concerned for others as you are for yourself, treat everyone with dignity and respect, support leadership and growth in everyone, respect the cultures you contact, be kind and open-hearted, do your share and stay organized, help others, but don't routinely do their work, model integrity by being honest and accountable, admit and correct your mistakes.
Risk Management
Risk is an inherent and valuable component of wilderness experiences and the learning process. TrekNorth recognizes and appreciates this risk through risk management that incorporates experience, sound judgment, the evaluation of consequences, and the consideration of the group. TrekNorth Instructors are committed foremost to keeping students healthy and free from harm through a demonstration of wilderness skills, medical knowledge, and successful risk management.
Leave No Trace
At TrekNorth, in any pursuit, we strive to leave places better than we found them. Leave No Trace principles are a main pillar of our Outdoor Adventure Program that have relevance in all aspects of life.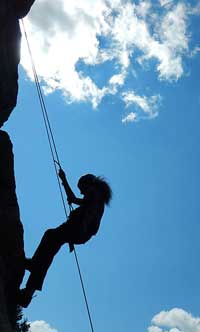 CONTACT INFORMATION:
Please email or phone with any questions, comments, or concerns.
oap@treknorth.org
218-444-1888
OAP INFORMATION AND FORMS