Free Movie Night event sponsored by TrekNorth Indian Ed and the Science Department tomorrow night! Information on flyer: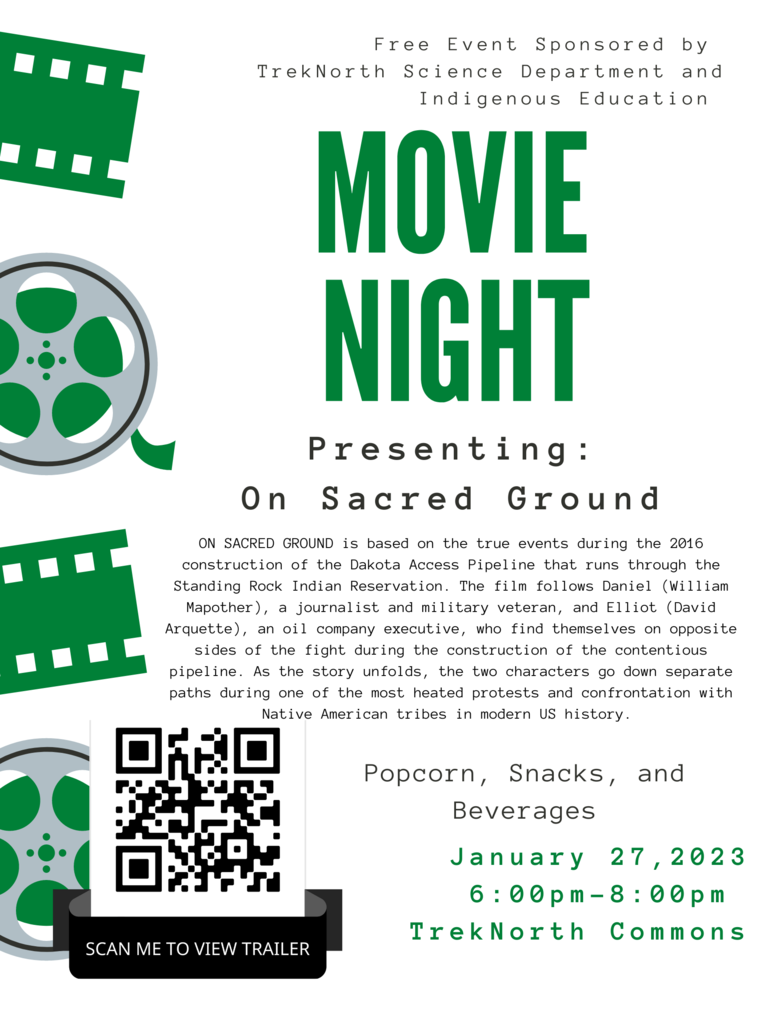 You have the opportunity to travel to Berlin, Prague, Krakow and Budapest in Summer 2024 with the TrekNorth community! It's a once-in-a-lifetime opportunity you will not want to miss. Bring yourself and your family to my in-person information session on January 30th at 5:00 pm to learn more my tour to Berlin, Prague, Krakow and Budapest and how you can be a part of it. Please register for the meeting here:
https://bit.ly/3HhpFjG
See you all soon!

Congratulations to the Sundog Speech Team. The Speakers attended their first meet of the season at Cass Lake -Bena. Veteran speakers were able to knock off the rust. Novice speakers were able to observe and gather ideas to add to their own presentations this season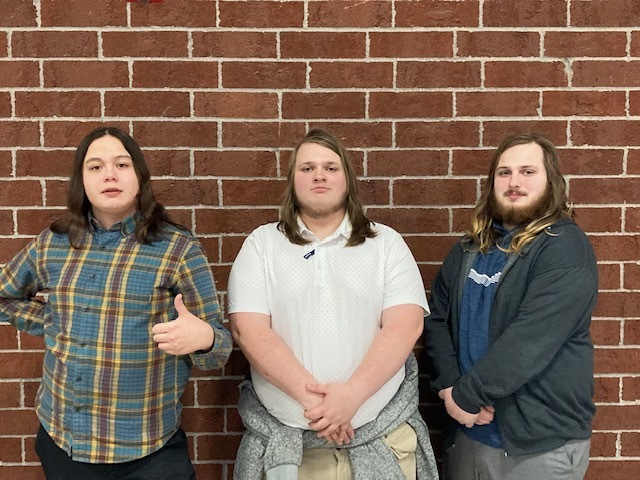 Do you dream about your child having the opportunity to travel the world? This is their chance! Come to our informational meeting on January 30th at 5:00 pm to learn more about my upcoming 2024 trip to Berlin, Prague, Krakow and Budapest. Make sure you RSVP for the meeting here:
https://bit.ly/3HhpFjG
by January 29th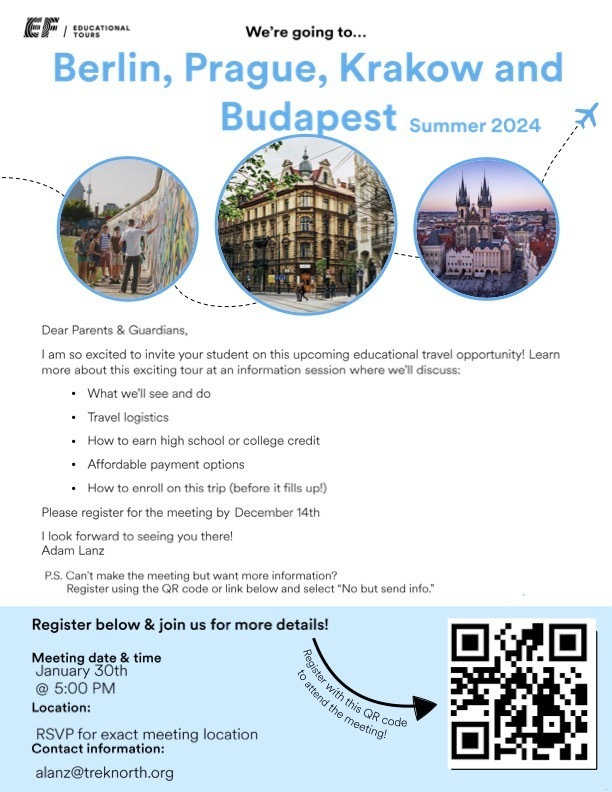 Thanks to all who have gotten their forms in. Here is a packing list for the trip. Please note that students should not bring food - there is no food allowed in the rooms. We will have snacks for them. If there is something on the list you do not have, please have your student let us know. Trek has some gear that we can lend out.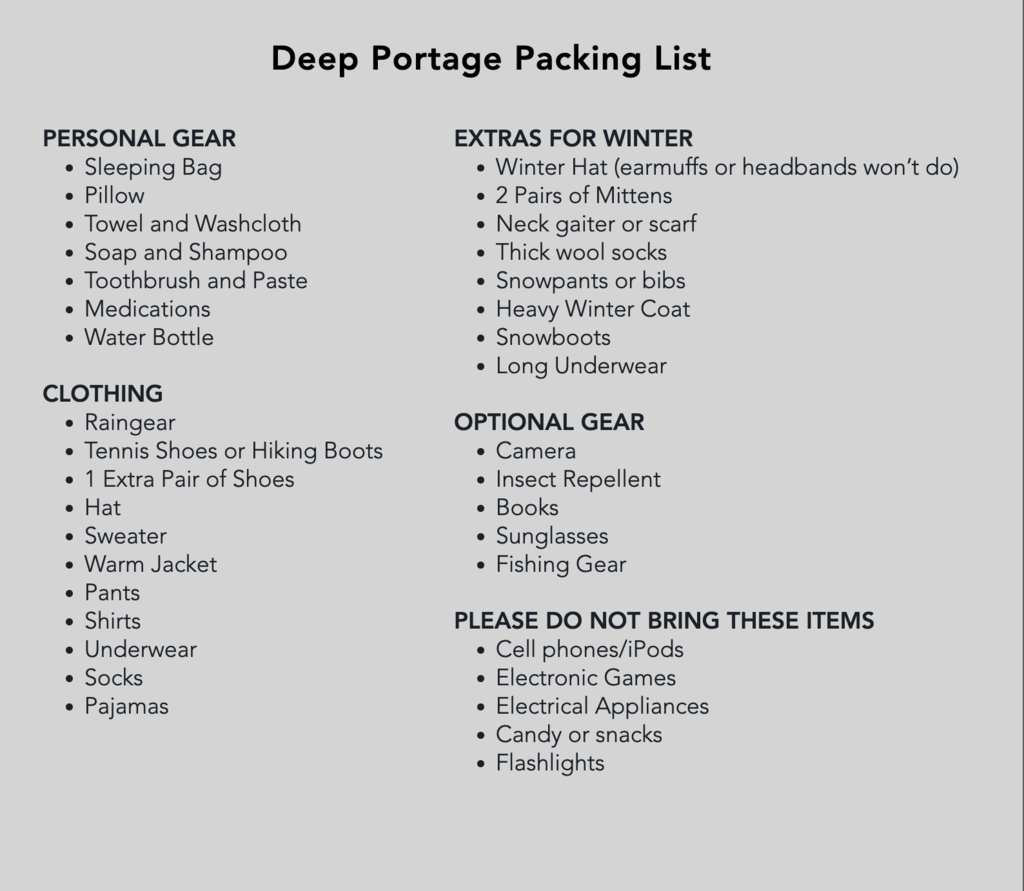 Live Unified Day - TrekNorth 2023 - Words Matter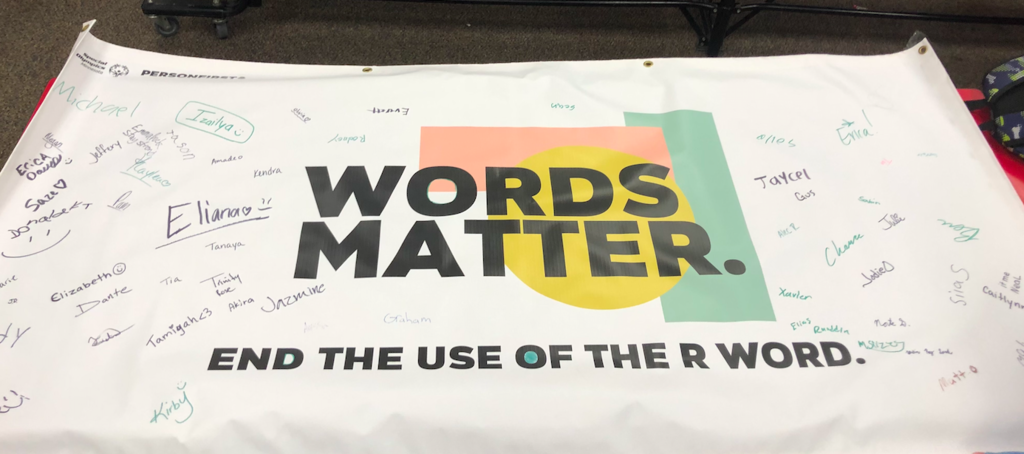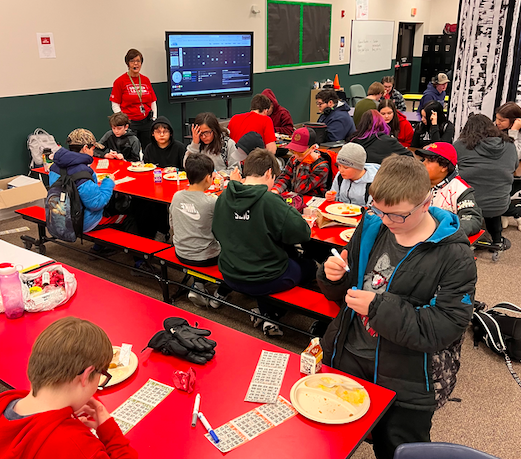 Live Unified Day - TrekNorth 2023 - Game Club Bingo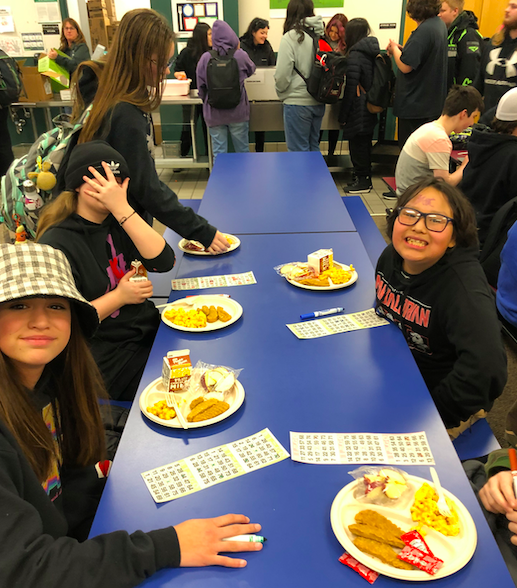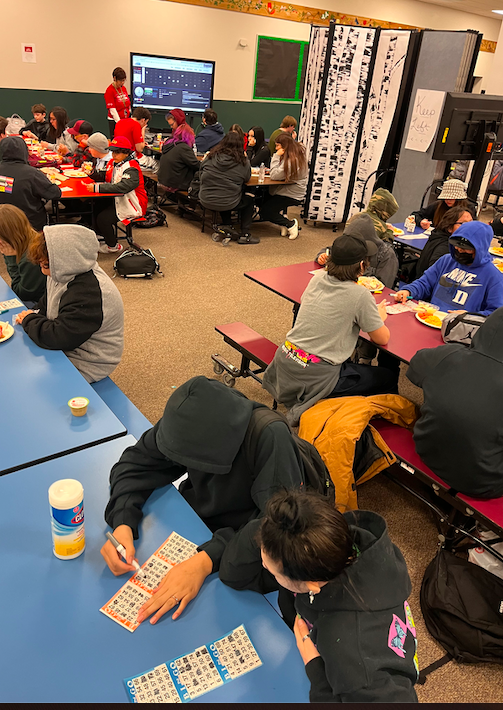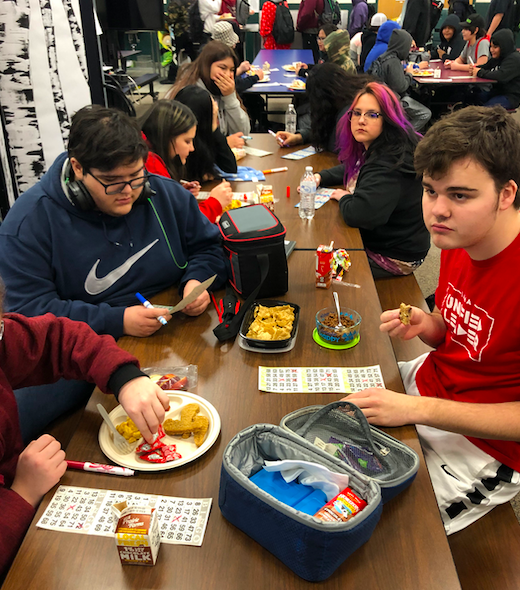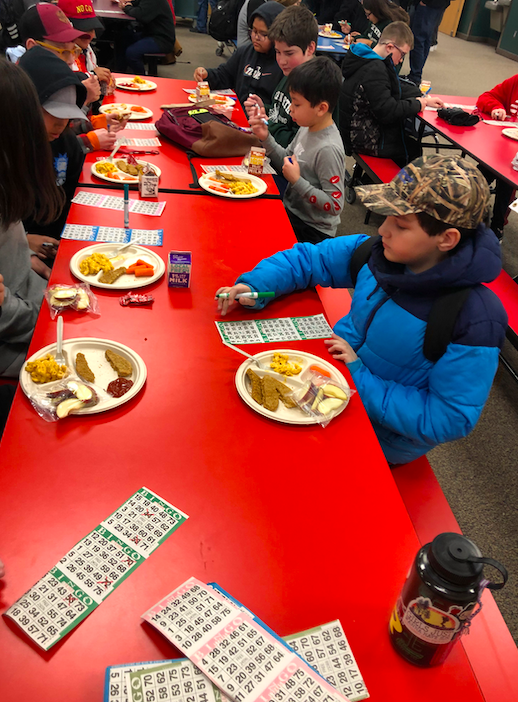 Live Unified Day - TrekNorth 2023 - Unified Pancake Breakfast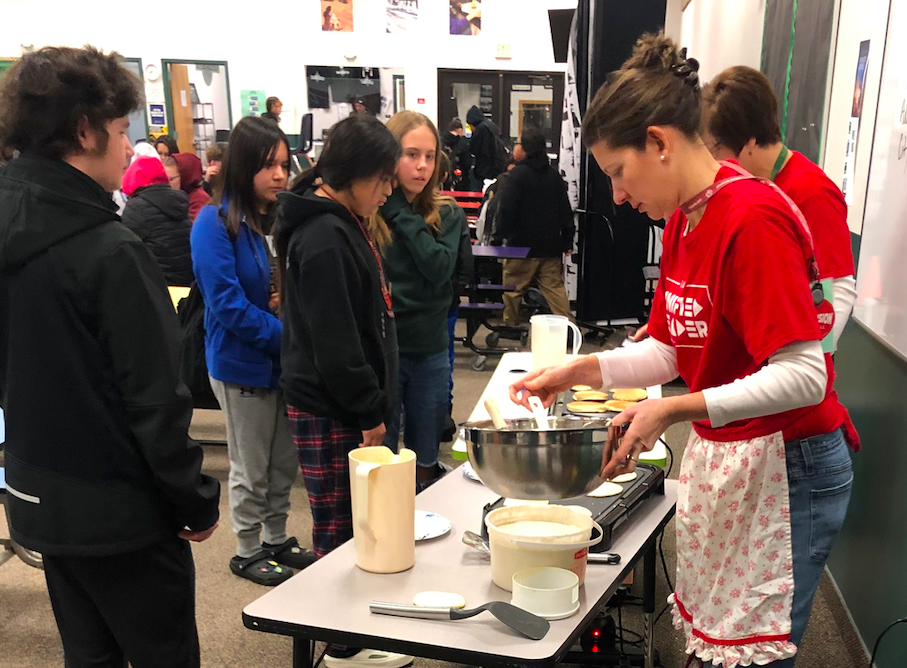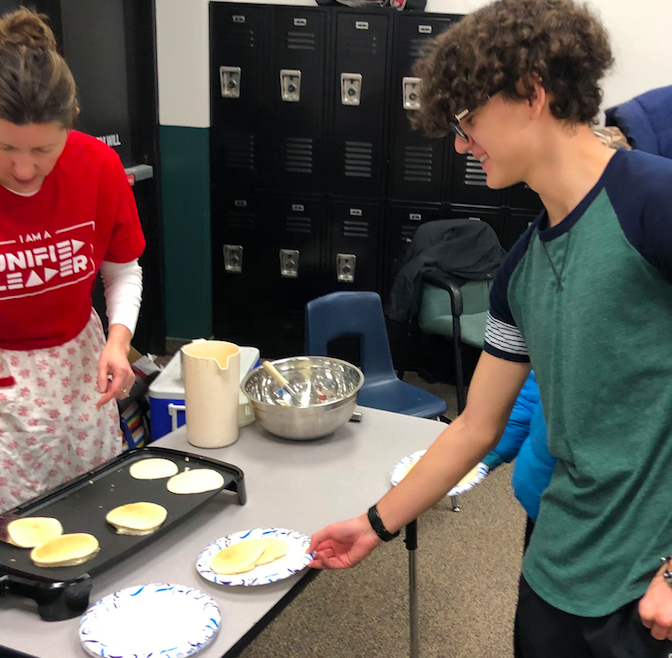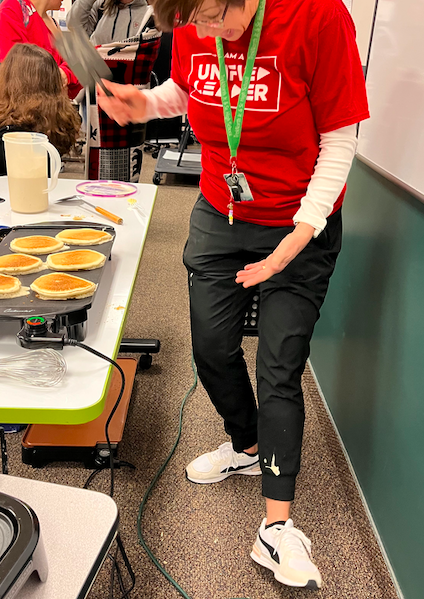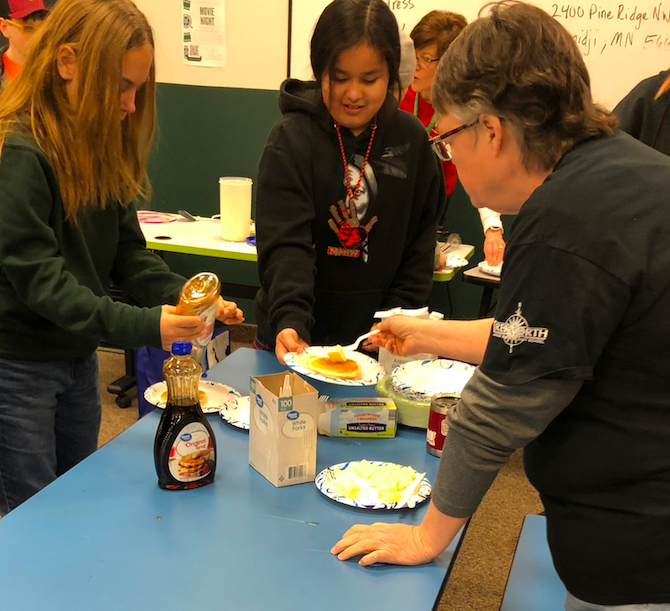 Storytelling event is tonight from 5-7:30! See you there.

6th Grade Deep Portage Trip - Please get forms returned by Friday, January 20. Check your email, or call Kirby if you need another copy of the three forms.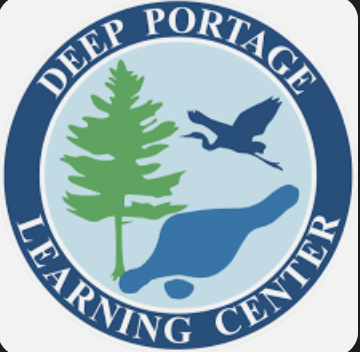 Tomorrow is the day! If your student is attending the Giants Ridge Ski trip, make sure they are at school by 6:30 am. Weather looks good, but make sure they are ready to be outside for the day. Bus is expected to return by 6:30 pm. Check facebook page for any changes in times.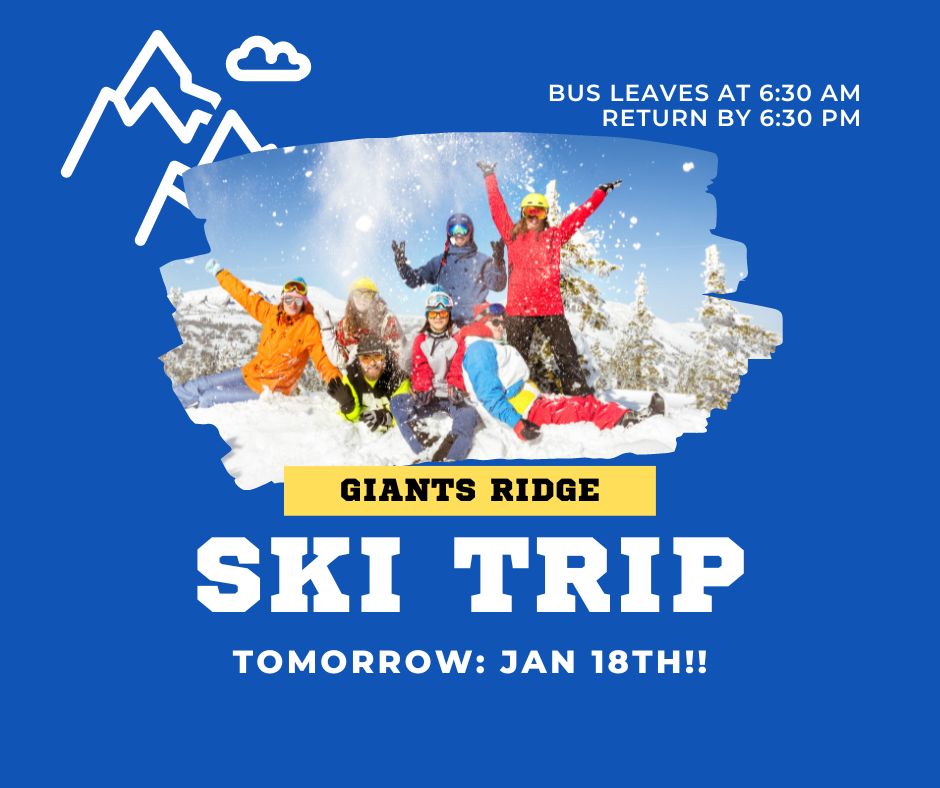 Reminder: No school tomorrow for TrekNorth students! (Monday, January 16)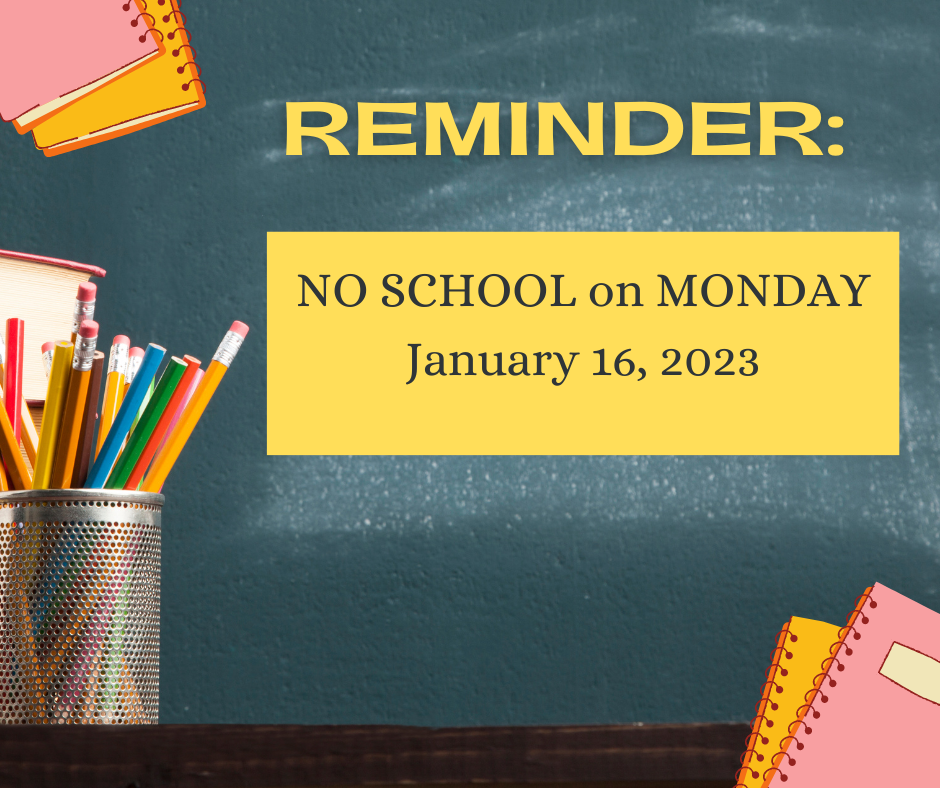 Congratulations to the TrekNorth Tourists for competing in the Buena Vista Snowjourn Tour on Saturday. Way to go Sundogs!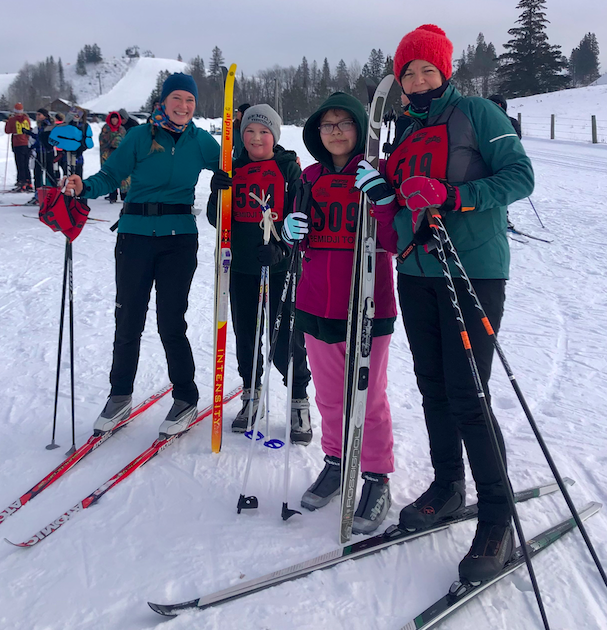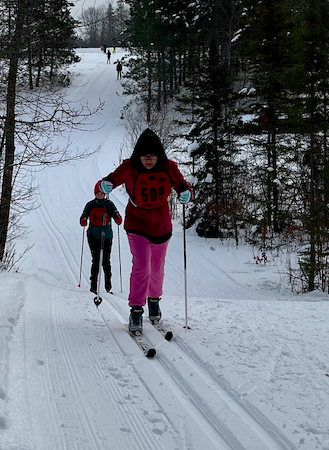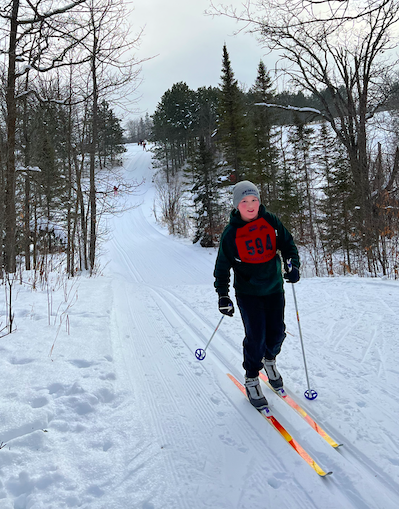 JH skiers Reid and Calvin participated in the DL Invite at the Maplelag Resort this week. Way to go Sundogs!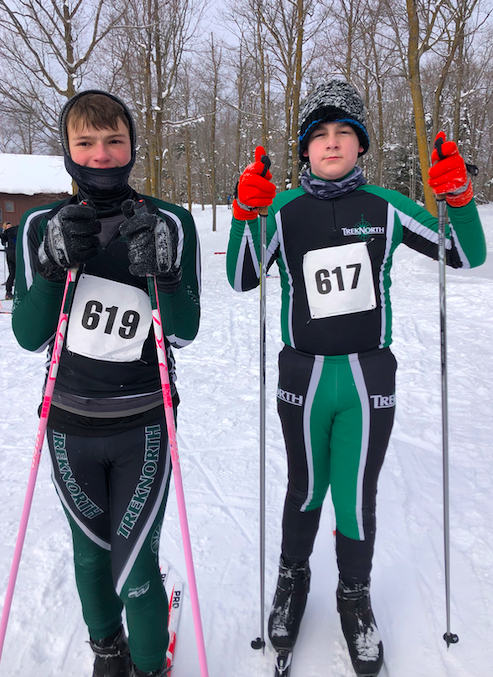 Check out these Sundogs winter camping at Bear Head State Park!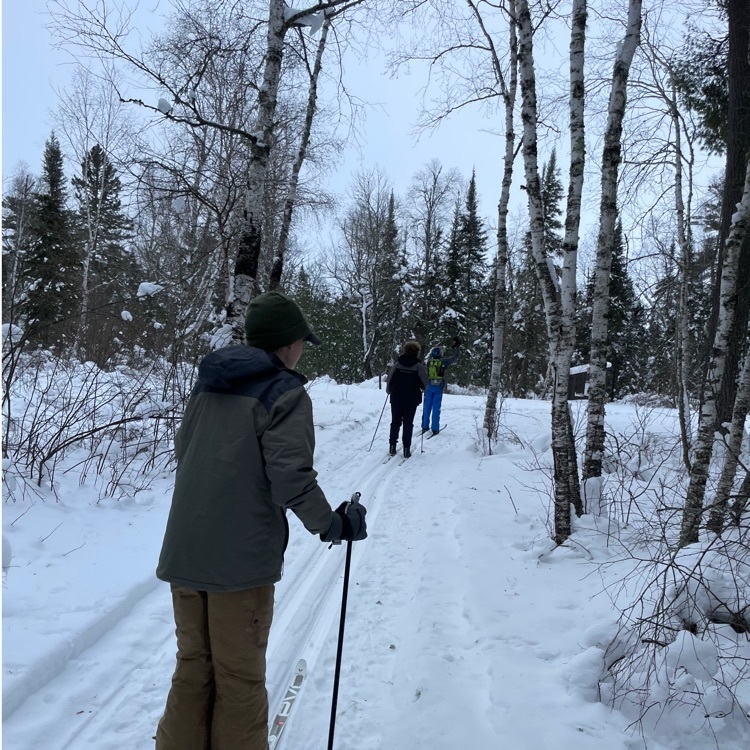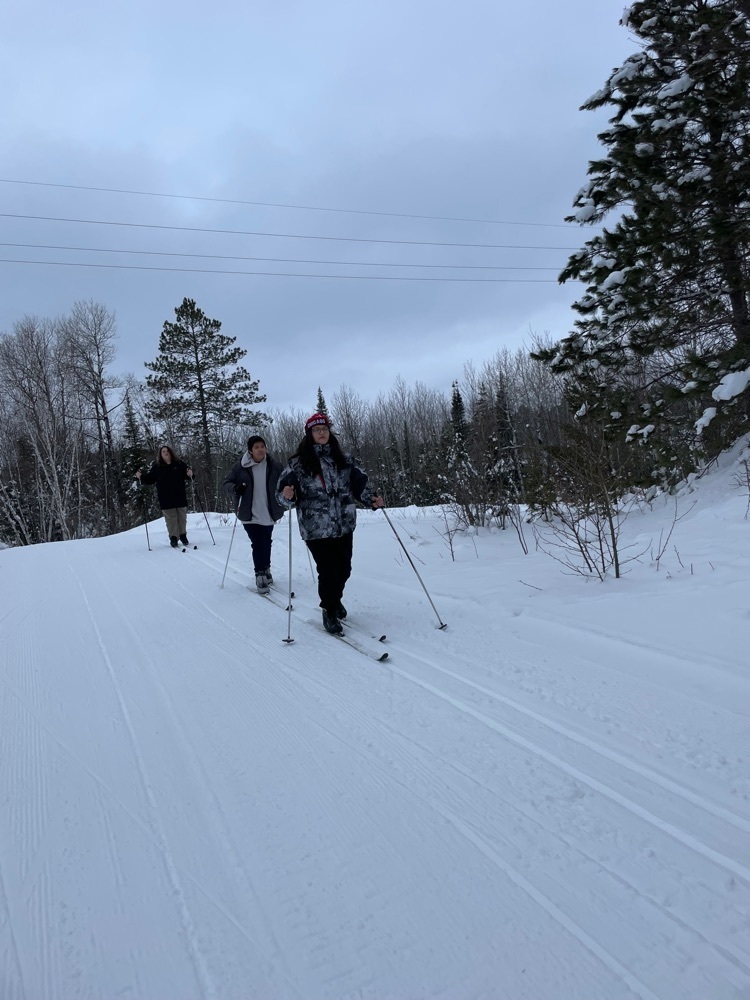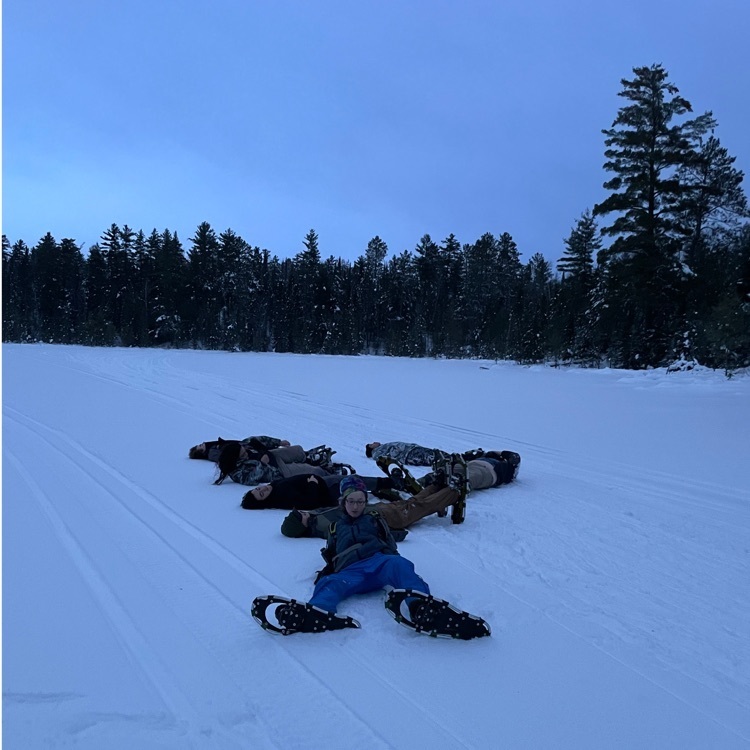 Join the INCLUSION REVOLUTION! On Wednesday, January 18th we will celebrate and learn about inclusion and the Unified Champion Schools programming that we enjoy at TrekNorth. Wear a red shirt (or one that promotes kindness and unity) to show your support.

All high school students are invited to the first semester study night, Thursday, January 12 from 4:00-6:30 pm. Study sessions, treats, and pizza will be provided. This is a great way for students to prepare for the end of the first semester that is on Friday, January 20. Sign up on the Google Form in student emails. Sponsored by the TrekNorth High School Student Council.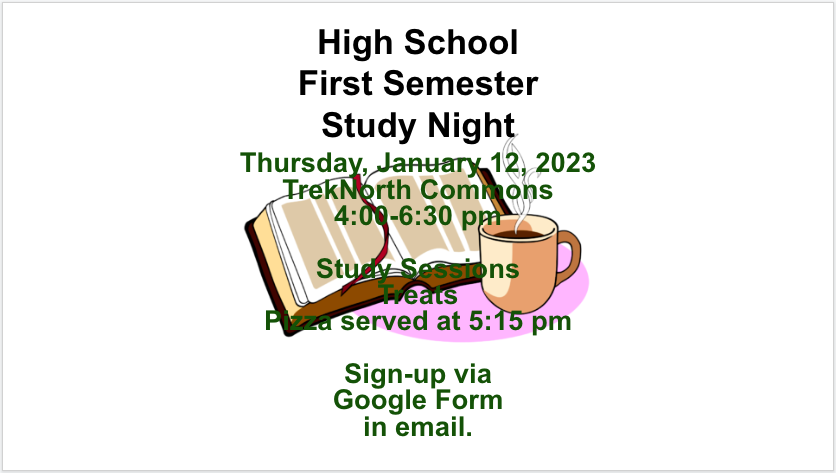 JH Nordic Skiers had an amazing 3 evenings on the trails. We worked on double polling, turning corners and control coming down hills. Free Ski Friday meant some fun "off roading"! Beautiful sunsets and big smiles! Way to go Sundogs!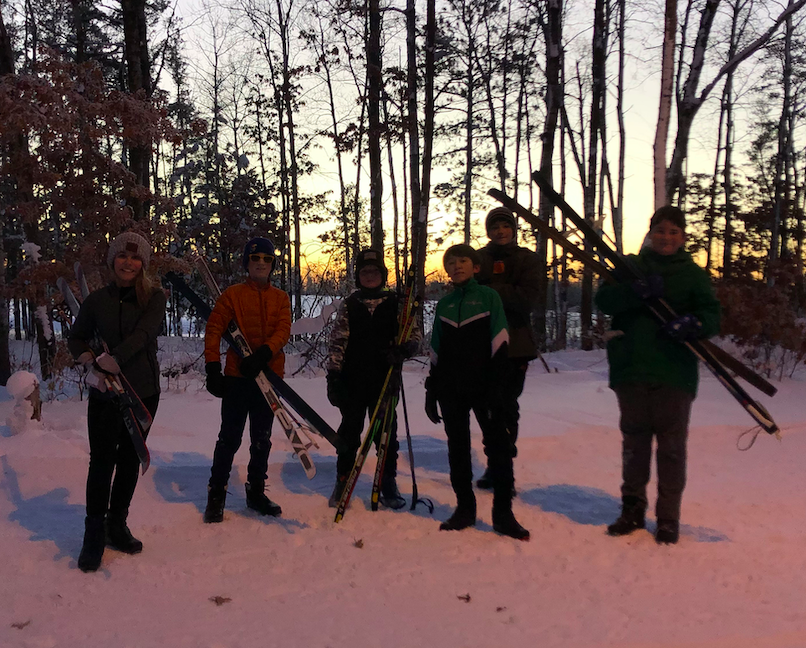 TrekNorth High Schoolers have the opportunity to go on a one day trip to Giants Ridge to go downhill skiing. Ski instructors will be on the slopes to help beginners, and experienced riders can enjoy the many different runs they have to provide. Any questions, email
lwiggins@treknorth.org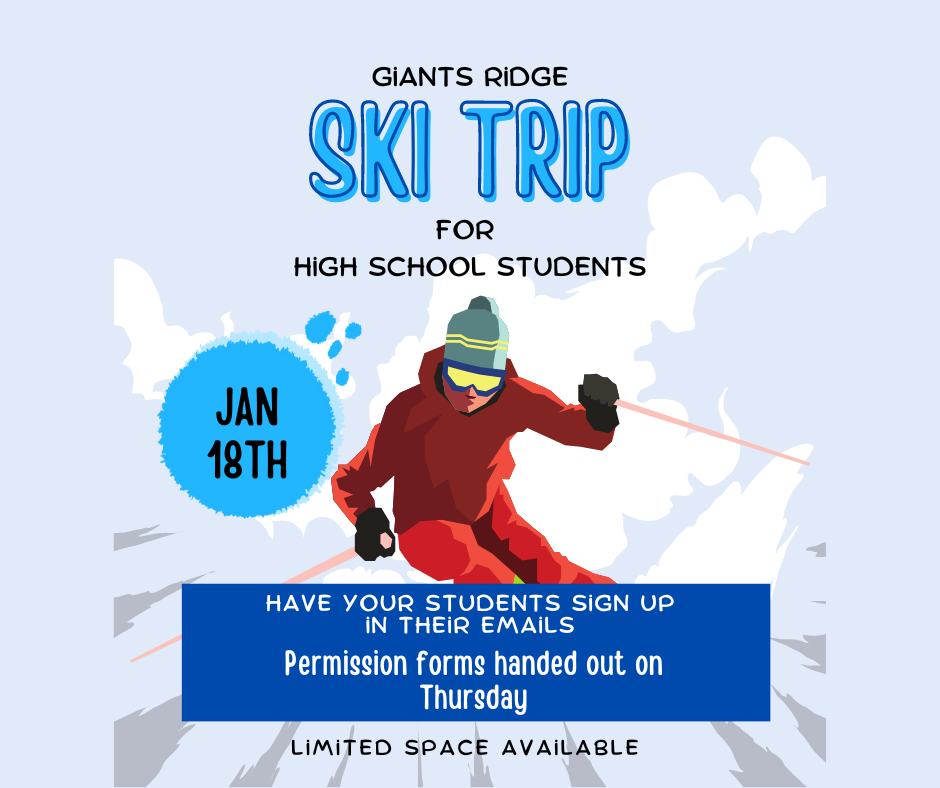 Reminder: No School for TrekNorth students tomorrow (12/22)! See you after winter break on January 4!